Australian Guitar Star Brett Garsed Fuels His Flowing Style With DigiTech Whammy DT Pedal, RP1000 and RP500 Multi-Effects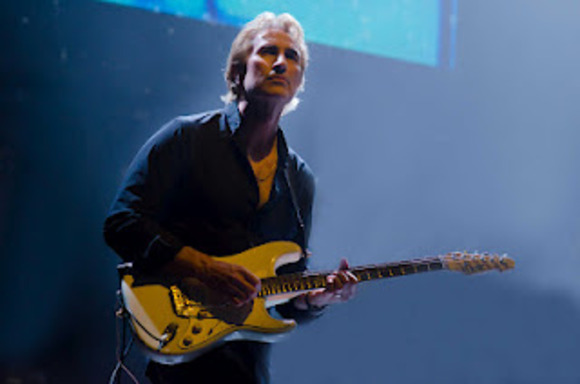 June 20, 2012
SALT LAKE CITY, Utah – Brett Garsed is one of the best guitarists to come out of Australia. Currently playing in the show band for Australia's Dancing With the Stars, Garsed and his DigiTech pedals are heard by more than two million TV viewers every week. Garsed is known for his unique, fluent slide guitar style and use of wide intervals and a chromatic rather than scalar approach to improvisations.
Garsed uses his DigiTech Whammy DT pedal and RP1000 and RP500 multi-effects units constantly live and in the studio. "The Whammy DT is not only a wonderful expressive tool, it's a lifesaver in live performance. I can use it to modify my tuning without having to change guitars, which is especially useful during TV shows like Dancing With the Stars where the atmosphere is pretty frantic and you sometimes have only seconds to change your settings between songs."


The Whammy DT gives guitarists a wide array of pitch-shifting and drop-tuning effects. It can drop down or capo up four steps and delivers stunning octave and two-octave up and down bends, harmony bend modes and more. "The Drop Tune feature is flawless and tracks perfectly – I love it," noted Garsed. "The Whammy DT can really expand your sonic palette and the sounds you can get from your guitar. Its momentary footswitch lets me create hammer-on and pull-off effects that really complement my left-hand techniques. Basically, I don't leave home without this pedal."

For live performances Garsed also makes use of multiple pedals in DigiTech's RP series. "I really like the RP1000 and RP500 multi-effects for their versatility, range of great sounds and the fact that they're built like tanks." The RP1000 and RP500 combine the flexibility of a programmable multi-effects unit with simple stompbox operation. They offer access to more than 125 effects (160 for the RP1000) including distortion, fuzz, chorus, delay, reverb, compression and more, all fully user-adjustable.

"I've taken the RP1000 and RP500 on international tours and used them on many TV appearances, and they make it easy for me to access any sound I need," said Garsed. "They sound incredible and I know they're never going to let me down. I can't tell you how much easier having every sound you want in a single unit makes gigging, instead of having to carry around big, fussy pedalboards and rack systems. In fact, now I don't need anything else – I can do any date with just my guitar, amp, a Whammy DT and one of my RP pedals."


HARMAN (www.harman.com) designs, manufactures and markets a wide range of audio and infotainment solutions for the automotive, consumer and professional markets — supported by 15 leading brands, including AKG®, Harman Kardon®, Infinity®, JBL®, Lexicon® and Mark Levinson®. The Company is admired by audiophiles across multiple generations and supports leading professional entertainers and the venues where they perform. More than 25 million automobiles on the road today are equipped with HARMAN audio and infotainment systems. HARMAN has a workforce of about 13,000 people across the Americas, Europe and Asia, and reported net sales of $4.3 billion for the twelve months ended March 31, 2012.