Clay Sears, Guitarist for Janet Jackson and Queen Latifah, Relies on DigiTech® Pedals to Craft His Signature Sounds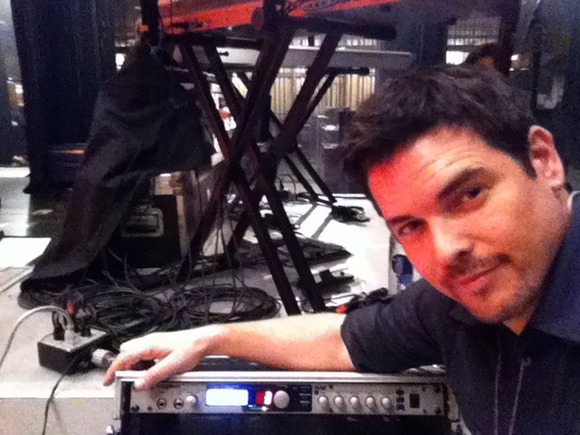 December 20, 2010
SALT LAKE CITY, Utah -- Clayton "Clay" Sears is a musician, producer, engineer and programmer who has worked and performed with some of the world's most well-known artists including Britney Spears, Snoop Dogg, De La Soul, Boyz II Men, Ludacris, Joan Osborne and many others. Sears will be busier than ever over the coming months, playing guitar with Janet Jackson on an upcoming tour of Asia and in U.S. shows with Queen Latifah.
When it comes to gear, no one is more demanding than Sears -- and he uses a host of DigiTech pedals live and in the studio. His sound-shaping arsenal includes a DigiTech RP-1000 Multi-Effects Switching System, and DigiTech HardWire DL-8 Delay, CR-7 Stereo Chorus, RV-7 Stereo Reverb SC-2 Valve Distortion, TL-2 Metal Distortion and HT-2 Chromatic Tuner pedals. He also uses a GSP 1101 Multi-Effects Preamp/Processor.
"First of all, sound quality is an absolute must above all else," noted Sears. "If it doesn't sound good, I really don't have any use for a particular piece of gear. All, the DigiTech pedals I'm using sound great, and they nail the sounds I'm going for."
"The CR-7 chorus and RV-7 reverb are standouts," said Sears. "They sound amazing and I would put them up against any chorus and 'verb pedals on the market at any price. Also, the RP-1000 multi-effects unit has a lot of sounds, yet is extremely easy to program, which is a major plus when you're trying to get that perfect sound and don't have a lot of time to do it."
Sears continued, "The build quality of the pedals and the GSP 1101 in my equipment rack are all top-notch -- solid and roadworthy." He concluded, "I've owned more expensive gear that didn't sound as good as what I'm using now. DigiTech delivers outstanding sound at very reasonable prices."