DigiTech Begins Shipping Its HardWire V-10 Power Block Pedal Power Supply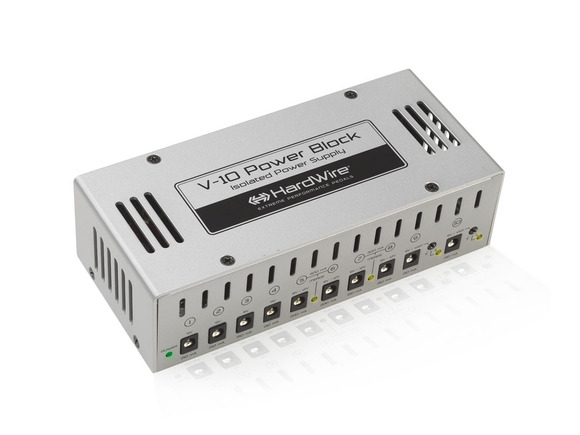 May 20, 2013
SALT LAKE CITY, Utah – HARMAN's DigiTech today began shipping its HardWire V-10 Power Block 10-Pedal Isolated Power Supply, a top-quality pedalboard power supply that delivers dependable, noise-free power for effects pedals.
The HardWire V-10 Power Block features 10 totally isolated high-current outputs and a shielded low-stray-field toroidal transformer to eliminate hum and noise that can be caused by ground loops and interference. It includes four 9-volt outputs, along with two pairs of 9V/12V merge-able outputs for power-hungry digital pedals, and two outputs with variable voltage.
Built road-tough with a heavy-grade aircraft aluminum chassis the HardWire V-10 allows for maximum heat dissipation. With its compact size, the V-10 mounts perfectly under Pedaltrain™ pedalboards. It utilizes standard 2.1 x 5.5mm barrel jack connectors and delivers 1200mA total DC current. The V-10's front-panel LEDs provide ready indication of output jack status. The V-10 comes with 17 DC power cables, 3.5mm phone plugs and 9V battery clip.
"We constantly hear from guitarists that a high quality power supply is essential and we built the V-10 Power Block to provide the same performance and reliability that our pedals are known for," stated Scott Klimt, marketing manager for DigiTech.
The DigiTech HardWire V-10 Power Block carries a six-year warranty and has a suggested retail price of $299.95.
HARMAN (www.HARMAN.com) designs, manufactures, and markets a wide range of audio, lighting and infotainment solutions for the automotive, consumer, and professional markets. It is a recognized world leader across its customer segments with premium brands including AKG®, Harman Kardon®, Infinity®, JBL®, Lexicon®, and Mark Levinson®, and leading-edge connectivity, safety and audio technologies. The company is admired by audiophiles across multiple generations and supports leading professional entertainers and the venues where they perform. More than 25 million automobiles on the road today are equipped with Harman audio and infotainment systems. Harman has a workforce of about 14,300 people across the Americas, Europe, and Asia and reported sales of $4.4 billion for the fiscal year ended June 30, 2012.
###