DigiTech Debuts Mosaic Polyphonic 12-String Effect Pedal for Guitar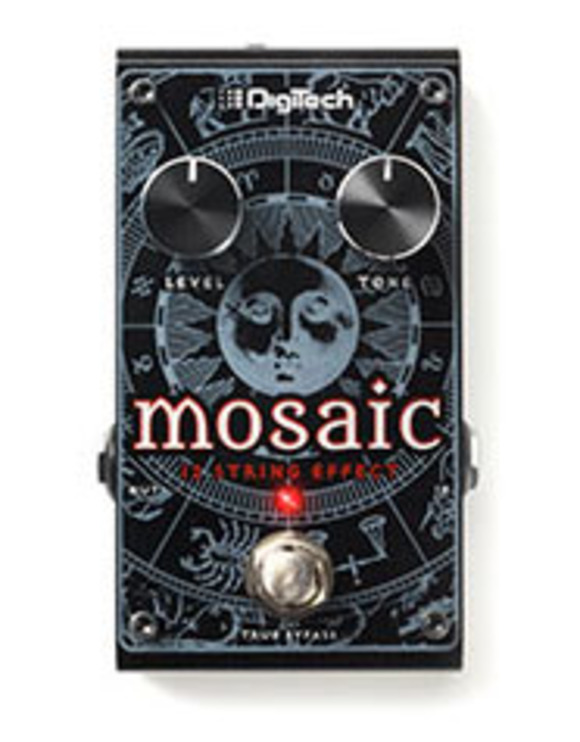 November 24, 2014
SALT LAKE CITY, Utah – Providing the unmistakable sound of a 12-string guitar and its chime, jangle and harmonic richness, HARMAN's DigiTech today introduced the Mosaic Polyphonic 12-String Effect Pedal. A 12-string guitar features two courses (pairs) of six strings tuned either in unison or an octave apart, doubling each string of a standard six-string guitar to give a 12-string a fuller sound with a bell-like sparkle and a natural chorus effect. The Mosaic utilizes advanced polyphonic pitch shifting and "intelligent" doubling algorithms to approximate the sound of a 12-string using any electric or amplified acoustic guitar.

"The Mosaic is ideal tool for live performing since it frees guitarists from having to change guitars when they need a 12-string," stated Tom Cram, Marketing Manager, DigiTech. "Its lush sound quality also make the Mosaic perfect for studio use."

The DigiTech Mosaic features a Level control that adjusts the amount of the 12-string effect intensity, and a Tone control that shapes the overall brightness of the effect. Whether playing single notes, arpeggios or full chordal strums, Mosaic tracks every nuance of a player's picking and dynamics, to deliver rich harmonic complexity with crisp octave shimmer and balanced low-end response.

The Mosaic offers true bypass operation, which keeps the unaffected tone of the instrument intact when the 12-string effect is not in use. The Mosaic has a compact, pedalboard-friendly metal enclosure, includes a power supply, and features a bright red LED for easy visibility on any stage.

The DigiTech Mosaic Polyphonic 12-String Effect Pedal will be available in December 2014 at a suggested retail price of $187.44 MSRP.
HARMAN (www.harman.com) designs, manufactures and markets premier audio, visual, infotainment and enterprise automation solutions for the automotive, consumer and professional markets. With leading brands including AKG®, Harman Kardon®, Infinity®, JBL®, Lexicon®, Mark Levinson ® and Revel®, the Company is admired by audiophiles, musicians and the entertainment venues where they perform. More than 25 million automobiles on the road today are equipped with HARMAN audio and infotainment systems. HARMAN has a workforce of approximately 16,600 people across the Americas, Europe, and Asia and reported sales of $5.6 billion for the 12 months ended September 30, 2014.