DigiTech Doubles Your Pleasure With the Red Coral Dual Detune E-Pedal for the iStomp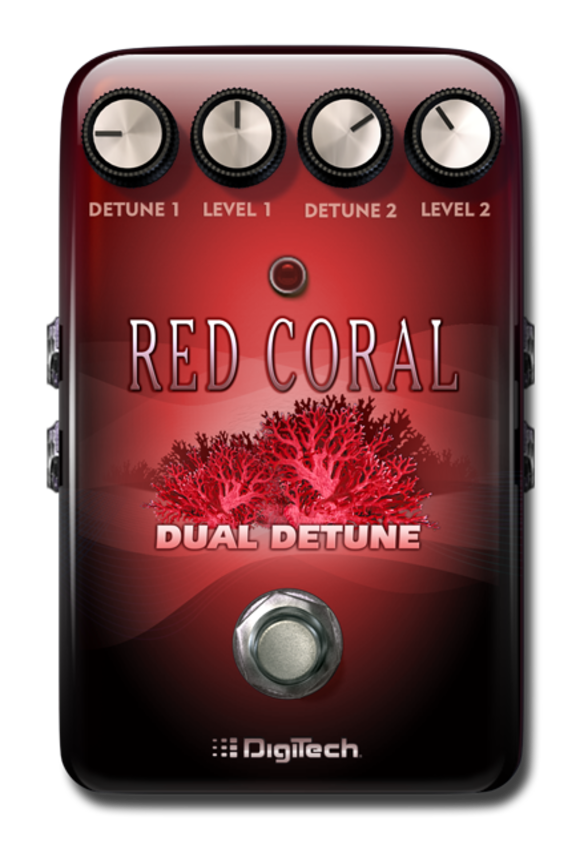 October 29, 2012
SALT LAKE CITY, Utah – HARMAN's DigiTech today announced the introduction of its Red Coral Dual Detune e-pedal for its iStomp programmable pedal. The Red Coral adds a choice of one or two slightly pitch-shifted signals to the original, to "double" or beef up the sound of a guitar, bass, keyboard or other instruments.

"Known as automatic double tracking or ADT, mixing a delay with an original signal is one of the classic recording studio techniques for making a guitar or instrumental part sound 'bigger' or making a single guitar sound like two guitars playing at once," said Scott Klimt, marketing manager for DigiTech. "Our Red Coral now makes this automatic double tracking studio effect available to musicians everywhere in an easy to use pedal."

The DigiTech Red Coral offers a detuning effect that's similar to a chorus pedal in that it adds a pitch-shifted signal to the original. However, the pitch shift doesn't modulate like the regular slow or fast cycling of a chorus pedal – the amount of pitch shift stays the same. The resulting effect sounds like two guitarists playing at the same time.
The Red Coral Dual Detune offers two independent voices each capable of plus or minus 24 cents of pitch shift, to produce anything from extremely subtle to lush detuning and double tracking effects. Each of the voices has an independent level control so that when the pedal is used in stereo one channel can be detuned while the other channel remains unaffected.
The DigiTech Red Coral Dual Detune e-pedal will be available in November 2012 at an introductory price of $0.99. This introductory price will run for one month. After the introductory period the price will change to $6.99.
The DigiTech iStomp is currently available at $229.95 suggested retail.
HARMAN (www.harman.com) designs, manufactures and markets a wide range of audio and infotainment solutions for the automotive, consumer and professional markets – supported by 15 leading brands, including AKG, Harman Kardon, Infinity, JBL, Lexicon and Mark Levinson. The company is admired by audiophiles across multiple generations and supports leading professional entertainers and the venues where they perform. More than 20 million automobiles on the road today are equipped with HARMAN audio and infotainment systems. HARMAN has a workforce of about 13,400 people across the Americas, Europe and Asia, and reported sales of $4.4 billion for the fiscal year ended June 30, 2012.
For additional information, contact:
Jason Kunz
Harman Signal Processing
801-566-8800
Jkunz@harman.com
###