DIGITECH® EXHIBITS NEW VOCALIST® LIVE 4 VOCAL HARMONY AND EFFECTS PROCESSOR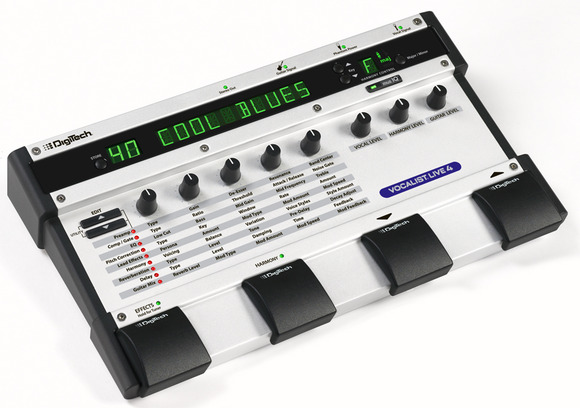 June 15, 2007
DigiTech's Vocalist® Live 4 automatically generates live multi-part vocal harmony by analyzing guitar chord progressions.

SALT LAKE CITY, UT, June 17, 2007 -- DigiTech®, a leading manufacturer of guitar signal processors, and a Harman International company (NYSE-HAR), is showing the Vocalist® Live 4 vocal harmony and effects floor processor at this Summer NAMM Show. The new Vocalist Live 4 furthers DigiTech's ongoing philosophy of developing products designed to supply musicians with the best sounding, most creative tools possible.
The Vocalist Live 4 vocal harmony processor is the big brother to DigiTech's Vocalist Live 2 and both units employ the powerful technology of musIQ® which accurately creates multi-part harmony by analyzing guitar chords. There is no tedious programming or knowledge of complicated music theory needed. Simply play any guitar chord and the Vocalist Live 4 knows exactly which great sounding harmony to create. The user can choose from a 3rd, 5th or octave above or below, or unisons to create up to 4 part harmony. It's that simple.
The Live 4 feature set also includes:
Selection of lead voice effects; Compressor, Reverb, Delay, Pre amp effects and EQ

24-bit/44.1kHz audio quality

Built-in mixer with Vocal, Harmony and Guitar level controls

Pitch correction with four adjustable parameters

Vocal enhancement effects matrix allows up to five parameters of Preamp,Compressor/Gate, EQ, Lead Effects, Harmony, Reverb, Echo Delay and Guitar effects

Store and recall up to 50 User presets; select from 50 Factory presets

2+10-character easy to read LED display

Major/Minor and Key Change Up/Down buttons with LED display

Harmony, Effects and Preset Up/Down pedals

On board chromatic guitar tuner

XLR mic /line input with level adjustment, low-noise preamp and +48V phantom power

1/4" guitar input, 1/4" guitar pass-through and guitar ground lift

Balanced Stereo 1/4" line and balanced stereo XLR outputs

Rugged road worthy all-metal chassis

Power supply included
The Live 4 has an MSRP of $699.00
For more information on the new DigiTech Vocalist Live 4 please visit www.vocalistpro.com
About musIQ® Harmony Technology
musIQ is a revolutionary technology that eliminates the need to enter key and scale information into the Vocalist Live 4 as it listens to the notes/chords played on a guitar and makes sure that the harmony voices fit with the music. Real-time processing discerns the individual notes and key signatures that are played to automatically generate appropriate vocal harmonies that complement the lead vocal. musIQ is a trademark of 3dB Research® Ltd.