DigiTech Now Shipping iStomp with 10 Downloadable e-pedals and Updated Stomp Shop App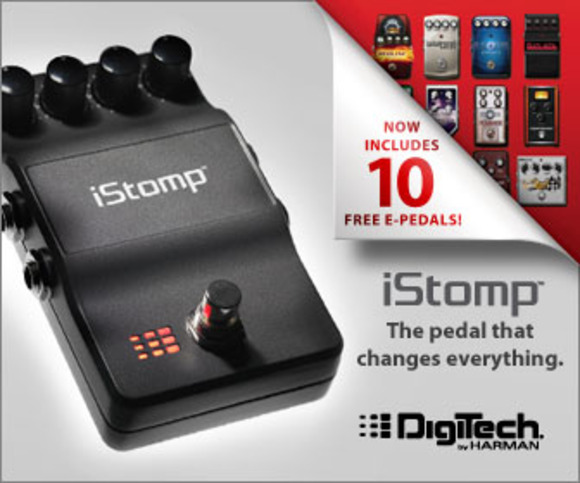 December 04, 2012
SALT LAKE CITY, Utah — HARMAN's DigiTech today announced it is now shipping its iStomp Programmable Pedal, pre-loaded with 10 of its most popular e-pedals and now features an updated Stomp Shop app where guitarists are able to try any pedal for free for up to five minutes.
"When we introduced the iStomp we led a new product category that changed the way guitarists and musicians thought about creating their tone. With each new e-pedal introduction we have expanded their capabilities and brought a new level of utility and functionality never before available. The addition of eight more e-pedals included with the Stomp Shop update underscores our commitment to continuing to improve our offerings in the downloadable pedal category," explained Scott Klimt, marketing manager for DigiTech.
The 10 e-pedals that will be included upon purchase now include:
Redline Overdrive
Total Recall Delay
Blue Pearl Chorus
Death Metal
DOD FX25B Envelope Filter
Continuum Reverb
Jet Flanger
Compressor
Octaver
Double Cross Delay
The updated Stomp Shop app features faster image and sound clip downloading for demoing new e-pedals, new store front themes giving users the ability to customize their online interface, and new clearer settings that reset the LED color on the iStomp for each new e-pedal.
The iStomp pedal, which easily connects to an Apple iOS device using the DigiTech Smart Cable that comes with the iStomp, offers endless options when testing unfamiliar sounds. With four knobs to control effects parameters that change their function according to which effect is loaded, every musician can create his or her signature sound.
The DigiTech iStomp sells at a suggested retail of $229.95 and comes with an iOS authorization cable and power supply, with e-pedals available from $4.99 to $19.99.
HARMAN (www.harman.com) designs, manufactures and markets a wide range of audio and infotainment solutions for the automotive, consumer and professional markets — supported by 15 leading brands, including AKG®, Harman Kardon®, Infinity®, JBL®, Lexicon® and Mark Levinson®. The Company is admired by audiophiles across multiple generations and supports leading professional entertainers and the venues where they perform. More than 25 million automobiles on the road today are equipped with HARMAN audio and infotainment systems. HARMAN has a workforce of about 13,900 people across the Americas, Europe and Asia, and reported net sales of $4.4 billion for year ended June 30, 2012.
Jason Kunz
HARMAN Signal Processing
801-566-8800
Jkunz@harman.com
###