Get Your Freq On: HARMAN's DigiTech Debuts Its 3Q Three-Band EQ E-Pedal for the iStomp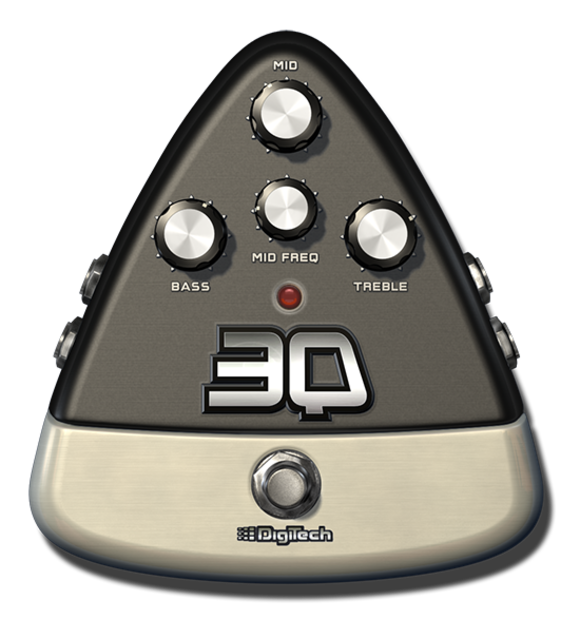 November 12, 2012
SALT LAKE CITY, Utah – HARMAN's DigiTech continues to expand its rave-reviewed iStomp e-pedal lineup with the introduction of its 3Q three-band EQ e-pedal. The 3Q gives guitarists and musicians three frequency bands of adjustable passive and active equalization for wide-ranging tone shaping.
"An equalizer can be one of the most useful sonic tools in a guitar player's arsenal," said Scott Klimt, marketing manager, DigiTech. "Among its many uses our 3Q e-pedal lets beef up the sound of single-coil pickups, add some extra midrange to make your guitar solos 'cut' through the mix, or provide further control over the tone of distortion and overdrive pedals."
The 3Q features only 4 controls making it extremely easy to use. The Bass and Treble knobs are fixed-frequency boost/cut controls that are used to increase or decrease the low and high frequencies by +/- 12dB. The Mid Freq knob employs semi-parametric EQ with a sweepable frequency range of 500Hz – 3kHz while the Mid knob provides +/- 12dB of boost or cut for precise midrange tailoring.

The DigiTech iStomp is a new concept in guitar stompboxes that allows musicians to turn the iStomp into any pedal in the Stomp Shop online pedal store. Offering almost limitless sonic possibilities, the iStomp connects to an Apple iOS device where musicians can use the Stomp Shop app to load it with the e-pedal of their choice. The Stomp Shop is a free app and comes with two of the most popular requested pedals, the DigiTech Total Recall Delay™ and the DigiTech Redline Overdrive™. It gives access to more than 40 additional pedals that musicians can browse, try out and purchase, with more pedals added every month.
The DigiTech 3Q e-pedal will be available immediately at an introductory price of $0.99. This introductory price will run for four weeks. After the introductory period the price will change to the regular price of $4.99
The DigiTech iStomp is currently available at $229.95 suggested retail.
HARMAN (www.harman.com) designs, manufactures and markets a wide range of audio and infotainment solutions for the automotive, consumer and professional markets — supported by 15 leading brands, including AKG®, Harman Kardon®, Infinity®, JBL®, Lexicon® and Mark Levinson®. The Company is admired by audiophiles across multiple generations and supports leading professional entertainers and the venues where they perform. More than 25 million automobiles on the road today are equipped with HARMAN audio and infotainment systems. HARMAN has a workforce of about 13,900 people across the Americas, Europe and Asia, and reported net sales of $4.4 billion for year ended June 30, 2012.
For additional information, contact:
Jason Kunz
Harman Signal Processing
801-566-8800
Jkunz@harman.com
###