HardWire® TR-7 Tremolo/Rotary Extreme Performance Pedal Now Shipping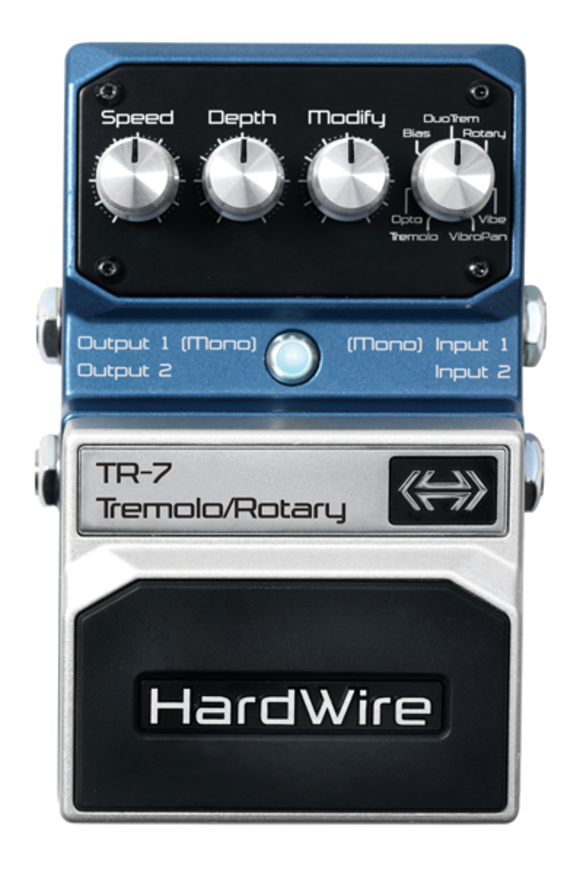 August 26, 2010
SALT LAKE CITY, Utah -- HardWire®, a leading manufacturer of guitar pedals, is proud to announce that the new TR-7 Tremolo/Rotary Pedal is now shipping. The TR-7 is a true stereo tremolo, rotary, and vibrato pedal, which offers effects ranging from traditional tremolo to a highly-detailed rotary cabinet simulator. It also features true stereo I/O, allowing for complex connections and sounds with extreme flexibility.
The TR-7 features seven effects including; Tremolo, Opto-Tremolo, Bias Tremolo, Duo Tremolo, Rotary, Vibrato, and VibroPan. The TR-7 also includes HardWire's standard extreme performance features like true bypass and high-voltage rails.
"We improved on an already impressive lineup of HardWire pedals with the introduction of the technologically superior tremolo and rotary pedal. The highly advanced processing in the TR-7 is an exciting addition to a tour-worthy package of the HardWire pedals," stated Rob Urry, president, Harman Music Group.
Each HardWire pedal also features an assortment of tour-worthy accessories, including a precut glow-in-the-dark label which is common on pro pedal boards, Stomplock™ knob guards to maintain pedal settings and a hook & loop pad to fasten the pedal to a pedal board.
The TR-7 has an MSRP of $189.95.