Josh Lattanzi Draws A Multiplicity of Sounds From HARMAN's DigiTech JamMan Solo On Norah Jones' Little Broken Hearts Tour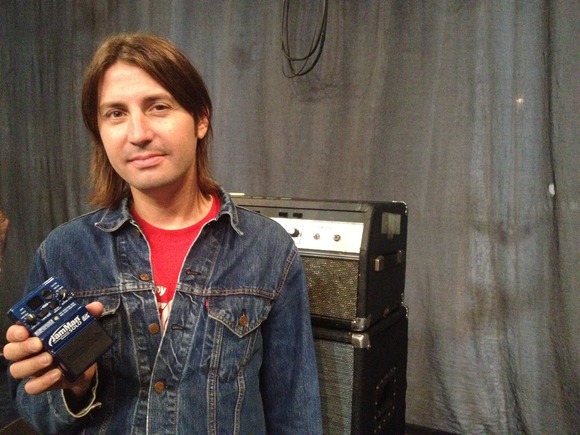 September 27, 2012
SALT LAKE CITY, Utah — Bassist Josh Lattanzi depends on HARMAN's DigiTech JamMan Solo for world-famous singer/songwriter Norah Jones' current world tour in support of her latest release, Little Broken Hearts—a sonic and emotional change from previous albums with its moodier songs and more expansive and textured sounds. Lattanzi is a multi-instrumentalist who can also be seen playing acoustic and electric guitar, lap steel guitar and piano during the current tour.
"It's a challenge to reproduce the sounds of the album live," said Lattanzi "The music takes something of a different approach, and there are some really beautiful and unusual tones on Little Broken Hearts. I need to use a variety of instruments and pedals on stage—especially the DigiTech JamMan Solo—to convey the feel of the record."
"The JamMan Solo is a really great pedal—its playback sounds fantastic, it couldn't be easier to use and its build quality is top-notch. It allows me to create really interesting sonic textures and atmospheres," added Lattanzi.
When it comes to choosing pedals, Lattanzi knows what he wants. "I mainly look for gear that sounds great. This might sound simple but I'm really picky so it sometimes takes a lot of looking around for me to find the right pieces of gear."
Count Lattanzi among the many pro guitarists who find the DigiTech Whammy an indispensable part of their gear. "I had one of the first Whammy pedals when it originally came out and I'm excited that DigiTech still makes Whammy pedals that have all the pitch-shifting and expressive sounds of my original," Lattanzi added. "The Whammy is one of the most unique pedals ever developed."
"The songs from Little Broken Hearts continue Norah's evolution as an artist over the course of her five albums," Lattanzi noted. "If you listen to her albums in sequence it seems like a natural place to have gone stylistically. If you listen to her first album and the last there's definitely more of a sonic contrast."
"The show is a mix of songs from all of Norah's records, which really keeps things interesting for Norah, the audience and the band," Lattanzi concluded. "The JamMan Solo and Whammy play a big part in adding sonic variety to the songs and making what I'm playing complement the music."
HARMAN (www.harman.com) designs, manufactures and markets a wide range of audio and infotainment solutions for the automotive, consumer and professional markets – supported by 15 leading brands, including AKG, Harman Kardon, Infinity, JBL, Lexicon and Mark Levinson. The company is admired by audiophiles across multiple generations and supports leading professional entertainers and the venues where they perform. More than 20 million automobiles on the road today are equipped with HARMAN audio and infotainment systems. HARMAN has a workforce of about 13,400 people across the Americas, Europe and Asia, and reported sales of $4.4 billion for the fiscal year ended June 30, 2012.