The Gracious Few and Candlebox Guitarist Sean Hennesy Enhances His Tone With HARMAN's DigiTech Pedals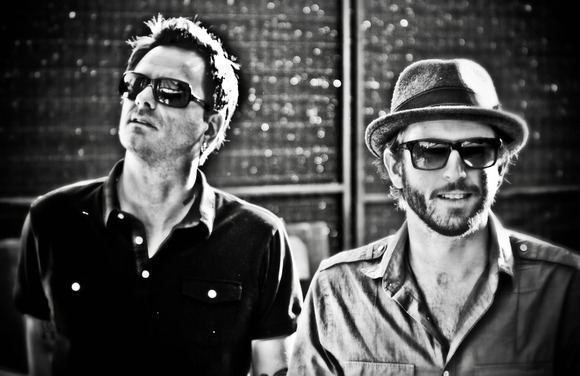 September 06, 2013
SALT LAKE CITY, Utah – Guitarist Sean Hennesy has a schedule that would make most musicians' heads spin, touring with not one but two hugely popular bands. He's a member of multiplatinum rock band Candlebox and is a founding member of The Gracious Few, a supergroup featuring Hennesy and Candlebox lead singer Kevin Martin along with Chad Gracey, Patrick Dahlheimer and Chad Taylor from alternative rock band Live. Wherever he goes, Hennesy takes his HARMAN DigiTech pedals – even on the plane between gigs.
"When it comes to DigiTech pedals, it's more a question of, 'what am I not playing' than what I'm using!" notes Hennesy. His iPB-10 programmable pedalboard, which works in conjunction with an iPad to create and control guitar effects in virtually unlimited combinations, is in constant use. "When I'm on the road I take the iPB-10 to my hotel room and connect it to my computer for practicing and recording. It's great for playing live as well as recording, and it's especially useful for flyout dates where I have to travel light or I don't know what kind of amp the promoter is going to provide."
"Sometimes I'll even mess around with new ideas on the plane with the iPB-10 just to hear what it's going to sound like when I get to plug it in." Hennesy co-wrote a few songs on Candlebox's 1998 Into the Sun album and joined Candlebox in early 2006 as a full-time member when the band resumed touring after a layoff. He contributed songs to the band's current album, Love Stories and Other Musings. In 2009 he was asked to do a project with Gracey, Dahlheimer and Taylor from Live and after their first writing session, "got a phone call and was on a plane the next day as a member of The Gracious Few." Through it all, his primary road pedalboard has included DigiTech pedals, and Hennesy currently uses the DigiTech Hardwire HT-6 PolyChromatic Tuner, CM-2 Tube Overdrive, TR-7 Tremolo/Rotary, CR-7 Stereo Chorus and the DigiTech Whammy DT pitch shifting pedal. "When I was young, I thought everything sounded good, not just DigiTech. As grew, I experimented with different pedals, always looking for something new. For the past few years, though, I've been playing with DigiTech pedals and haven't needed to look for anything else." Hennesy likes DigiTech pedals for many other reasons. "They are durable and made for stomping. Most importantly, they don't suck tone like some other pedals do. They enhance it. "When it comes to tone, I want to hear what my hands produce with the guitar though the amp," Hennesy notes. "But…effects are always fun and can help separate you from everyone else. DigiTech pedals keep giving me fresh new flavors."
Hennesy's frantic schedule shows no sign of abating. "2014 will be the year for an explosion of new music from me." He's not telling yet what that music is going to be, but it's a sure bet it will bemade with the help of DigiTech.
For additional information, contact:
Jason Kunz
HARMAN Signal Processing
801-566-8800
jason.kunz@harman.com