DigiTech Introduces Luxe Polyphonic Detune Pedal: Lush Doubling Effects for Guitar and Bass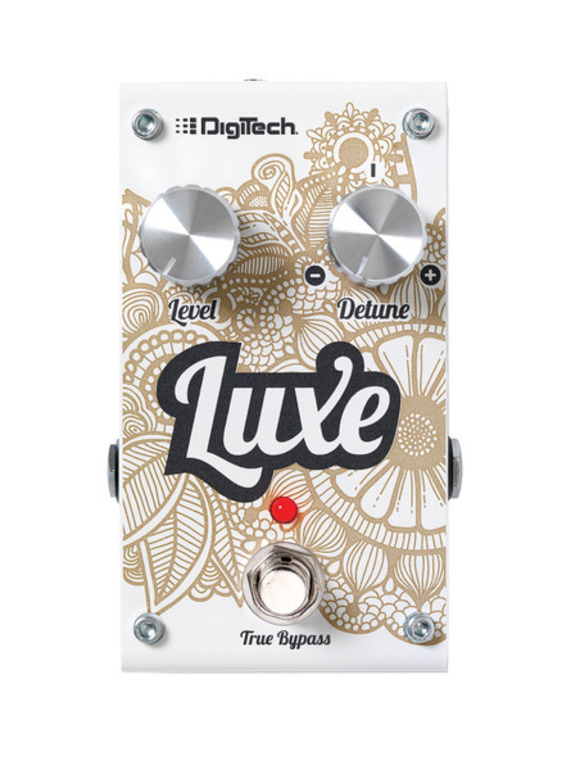 June 18, 2014
SALT LAKE CITY, Utah – HARMAN's DigiTech today announced the introduction of its Luxe polyphonic detune pedal, which adds richness and depth to the sound of a guitar or bass with its subtle detuning effect. Featuring the advanced polyphonic pitch-shifting and tracking algorithm used in the legendary DigiTech Whammy® pedal, the Luxe makes any player's tone more expansive, adding shimmer to clean guitar chords and sonic enhancement to distorted guitar harmonics and electric bass.
"I've been calling the Luxe the anti-chorus, since it gives you all the added richness of a chorus without the muddiness or out-of-tune characteristic of chorus," said Tom Cram, marketing coordinator, DigiTech. "The Luxe can be set to add anything from a subtle sonic flavoring to a lush, distinctive tonal enhancement that is unavailable from any other stand-alone pedal."

The DigiTech Luxe provides a variable detune range from -50 cents to +50 cents, giving players the ability to dial in the amount of detuning effect. It's Detune knob controls the amount of detune and the Level knob blends the amount of the effected to the dry signal. The Luxe employs the identical polyphonic pitch-shifting algorithms used in the Whammy, to precisely track chords and arpeggios for accurate, glitch-free pitch shifting that perfectly complements what the guitarist or bassist is playing.

The Luxe features true bypass operation, which keeps the uneffected tone of the instrument intact when the effect is not in use, with no sonic degradation. The compact, pedalboard-friendly Luxe is operated via its 9-volt input and included power supply.

The DigiTech Luxe will be available in July 2014 at a suggested retail price of $199.95 MSRP.

HARMAN (www.harman.com) designs, manufactures, and markets a wide range of infotainment and audio solutions for the automotive, consumer, and professional markets. It is a recognized world leader across its customer segments with premium brands including AKG®, Harman Kardon®, Infinity®, JBL®, Lexicon®, and Mark Levinson® and leading-edge connectivity, safety and audio technologies. The Company is admired by audiophiles across multiple generations and supports leading professional entertainers and the venues where they perform. More than 25 million automobiles on the road today are equipped with HARMAN audio and infotainment systems. HARMAN has a workforce of 15,200 people across the Americas, Europe, and Asia and reported sales of $5.1 billion for the last twelve months ended March 31, 2014.