J. Nicholas Annis Is On The Money With Ke$ha and HARMAN's DigiTech Whammy DT Pedal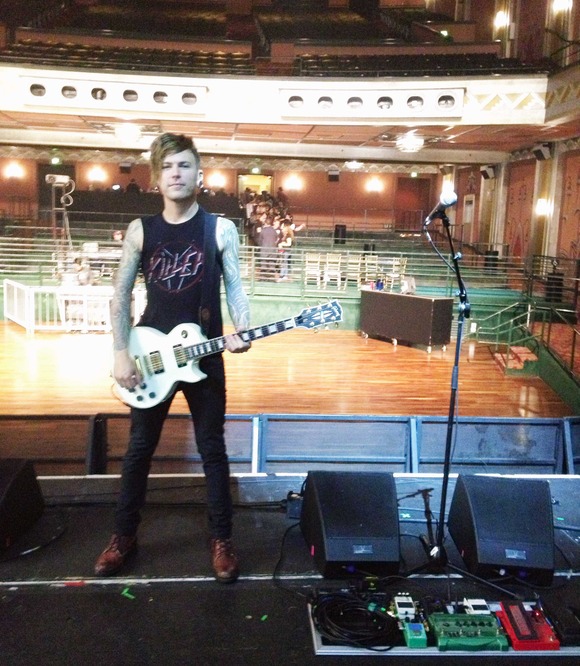 July 30, 2013
SALT LAKE CITY, Utah – Pop superstar Ke$ha needs little introduction to pop music fans – she's had a string of Number One albums and singles since her 2010 debut Animal and her single "Tik Tok" is the second-best selling digital single of all time with over 14 million downloads. Currently touring in support of her latest album The Warrior, her live shows feature plenty of over-the-top singing, rapping, dancing – and guitar playing, courtesy of J. Nicholas "Nick" Annis, who has been rocking the guitar in Ke$ha's live band and leans heavily on HARMAN's DigiTech Whammy DT pitch shifting pedal.
"I'm currently using the DigiTech Whammy DT. I couldn't ask for a better version of this pedal. I use the octave up and down harmonizer function in many of the songs I play for Ke$ha. It's especially apparent in her single 'Blow.' Also, on the fly, it's nice to have the transpose function that the DT provides for quick key changes where re-tuning is not an option. It's turned into a must-have for my role as working musician who plays for multiple artists," explained Annis.
For Annis who has been playing the guitar since he was 11, DigiTech has been apart of his pedal board going all the way back to his first metal band in the late 1990s. "I grew up using DigiTech multi-effects processors and in the last five years I've used various versions of the Whammy on my board."
The Whammy DT features an all-metal chassis, pedal and footswitch to stand up to the rigors of the road. "For gear that comes out with me, I look for stability, reliability and of course, a great sound. It's never fun having your pedal board go out, or have your guitar slip out of tune and have the singer glare over at you during a show! For live use, I try to have as rock solid of a rig as possible," added Annis.
The DigiTech Whammy DT provides the classic pitch shifting effects made famous by the original Whammy, including nine Whammy bending modes from 2-octaves up through 2-octaves down, nine harmony bending modes, two detune modes and the popular Dive Bomb six octaves down effect. In addition, the Whammy DT offers can drop down or capo up seven half-steps or an entire octave from where a guitar or bass is tuned, along with dramatic "hammer-on" and "pull-off-type sounds and true bypass operation.