Racer X, The Mars Volta, Zavalaz Bassist Juan Alderete Digs Deep With DigiTech Bass Whammy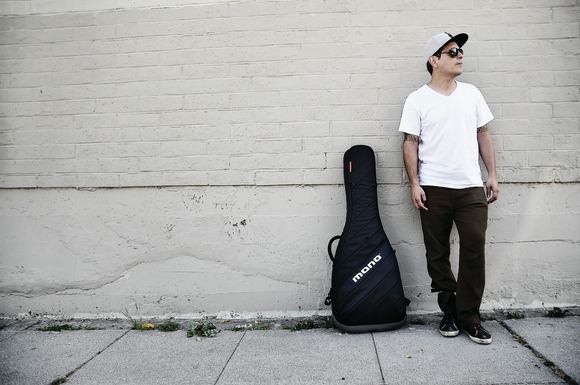 June 02, 2014
SALT LAKE CITY, Utah – There are good bass players, great bass players – and players like Juan Alderete, who are complete masters of the instrument. Alderete first shot to fame in the 1980s as bassist for speed metal band Racer X, going lap for lap with blazing virtuoso guitarist Paul Gilbert. Alderete's career continued to take off as bassist for The Mars Volta and today Alderete performs with Racer X and others, most recently with Zavalaz, featuring former The Mars Volta vocalist Cedric Bixler-Zavala. Alderete has always embraced the use of effects pedals in the search for new sounds both live and in the studio. Thanks to HARMAN's DigiTech Bass Whammy pitch-shifter pedal, he's digging deeper into uncharted sonic territory than ever before.

The Bass Whammy brings the legendary Whammy pitch-shifting effect to bass players everywhere. An update of the original, long-unavailable pedal, the Bass Whammy is optimized for bass guitar tones and delivers everything from subtle glissandos to outrageous 2-octaves up and 2-octaves down pitch leaps that go far beyond the range of a four, five or even six-string bass.

Aldrerete uses the Bass Whammy at the end of his pedalboard to transpose what he's playing to match the key of a song. "I keep it as the last pedal in my effects chain so that I can send any sound I create through it, and the Bass Whammy will keep that sound intact while raising or lowering the pitch to match the song. It works fantastically well for this purpose." He's also held onto his original Whammy, which he uses in conjunction with the new one. "I can use one pedal to change the pitch of my bass, and the other to add pitch-shifting effects to that. It gets pretty crazy at times – but it also lets me get sounds that I've never heard anyone else get out of a bass."

Aldrerete wasted no time embracing the expanded sonic capabilities of the new Bass Whammy. "My favorite new feature is the greater selection of intervals you can choose. With the new pedal you can get seconds, thirds, fourths, fifths, octaves and even wider-than-octave intervals and more, either in the pedal's Harmony mode or using the Whammy dropped-pitch effect. When you're playing a live gig through a big on-stage amp and PA, the dropped-tuning and low-bass effects you can get are just sick – the amount of low-frequency power is enough to rattle any room, almost scary."

Yet Alderete finds the Bass Whammy can be subtle as well as subterranean – "I love the improved tracking of this unit. It responds to everything I want it to do and keeps pace with my playing no matter how fast or intensely I play. The Detune mode can also go shallow or deep, which adds even more flexibility to the sounds you can achieve." In addition to the Bass Whammy, Alderete uses the DigiTech DigiDelay and Bass Synth Wah and "a ton of DOD pedals."

In addition to performances with Racer X and Zavalaz, he's using the pedal on a new project called Halo Orbit with drummer Mark Guiliana and guitarist suGar Yoshinaga from the band Buffalo Daughter. "I'm also using it a ton on the new Vato Negro record we're making, and have a new Big Sir record that is really heavy-sounding, with Bass Whammy-effects bass all over it." Alderete and vocalist Bixler-Zavala are also working on a new Zavalaz album and are aiming for an end of year release. The bottom line for Juan Alderete? "These days I don't go anywhere without the DigiTech Bass Whammy."

"Its exciting to see a talented bass player like Juan using the Bass Whammy in so many creative ways to enhance his tone. I'm anxious to hear how it sounds on his new recordings and I know Juan will push the sonic limits as he continues using the pedal," stated Tom Cram, marketing coordinator, DigiTech.

HARMAN (www.harman.com) designs, manufactures, and markets a wide range of infotainment and audio solutions for the automotive, consumer, and professional markets. It is a recognized world leader across its customer segments with premium brands including AKG®, Harman Kardon®, Infinity®, JBL®, Lexicon®, and Mark Levinson® and leading-edge connectivity, safety and audio technologies. The Company is admired by audiophiles across multiple generations and supports leading professional entertainers and the venues where they perform. More than 25 million automobiles on the road today are equipped with HARMAN audio and infotainment systems. HARMAN has a workforce of 15,200 people across the Americas, Europe, and Asia and reported sales of $5.1 billion for the last twelve months ended March 31, 2014.