California Guitar Trio's Paul Richards and Bert Lams Add HARMAN's DigiTech RP360 XP Multi-Effects Pedal to Their Repertoire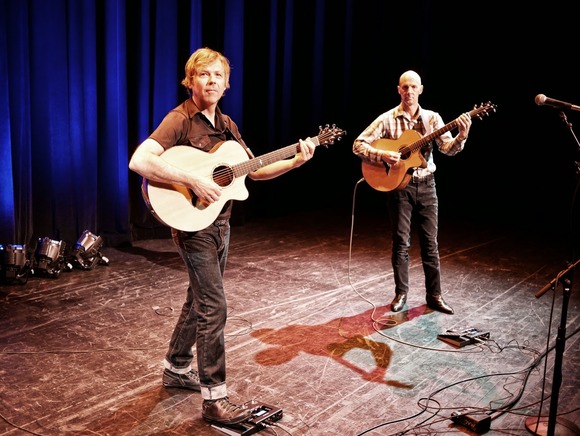 14 de Maio de 2014
SALT LAKE CITY, Utah – The California Guitar Trio is known to fretboard fans and music lovers for their dazzling acoustic-guitar virtuosity and wide-ranging repertoire, encompassing pop, jazz, world and classical and even veering into surf and other unconventional styles. Paul Richards, Bert Lams and Hideyo Moriya have been performing together since 1991, releasing 16 albums and charming audiences worldwide with their anything-goes musical approach and affable on-stage humor. Whether playing perfectly orchestrated ensemble passages together or taking off on soaring solo flights, the California Guitar Trio exemplifies acoustic guitar playing at its finest. Lately Richards and Lams have expanded their sonic palette with HARMAN's DigiTech RP360 XP multi-effects pedal, a guitar floor processor that offers 126 effects and amp models, nearly 200 presets, USB streaming for recording directly into a computer and much more.

The California Guitar Trio's penchant for musical experimentation led Richards and Lams to the RP360 XP which could be considered an unusual choice for acoustic players. Not according to Richards: "People might think the RP360 XP is 'supposed' to be designed for electric guitarists, but it sounds amazing on my acoustic," Richards said. "It's always a big challenge to find a multi-effects pedal that sounds good with acoustic guitar pickups. Let me just say that every night after our shows, guitarists ask me what I'm using to get my tones. They are often surprised when I tell them that all of my sounds come from the little RP360 XP."

The RP360 XP features a simplified control layout, three footswitches and an expression pedal that let players access a vast array of sounds, from reverb, echo, delay, chorus, flanger, compressor, envelope follower and other effects to a wide variety of amp and speaker cabinet models – and yes, overdrive, distortion and fuzz. Players can control volume and effects parameters on the fly, making the RP360 XP ideal for live performance.

"I've been a fan of the DigiTech RP Series pedals for several years, and have used and tested most models on the road," said Lams. The RP360 XP is without a doubt the culmination of these series. It is compact without feeling cramped, has a solid metal feel and delivers incredible sound. It's the Ferrari of the multi-effects world." Richards also likes the RP360 XP's stage-friendly size: "It has all the features of larger, more complex units in a small, easy to use, durable pedal."

"You'd be surprised how many of the pedal's 'stomp box' effects sound great with acoustic guitar," noted Richards. "When we play, it's not always about conforming to the 'pure' sound of an acoustic instrument, although obviously that's extremely important. And I use the onboard looper nightly in California Guitar Trio performances."

The RP360 XP is a valuable addition to any sonic toolbox, whether they're a world-renowned act like the California Guitar Trio or a performer or group who's playing at the local restaurant and wants to fill out their sound. "You don't have to have an engineering degree to use this pedal," Lams pointed out. "I just took the RP360 XP out of the box and started using it. It was a breeze to start playing and programming it without having to read through manuals, and the sounds are easy to select, tweak and program."

"It all comes down to musical expression," said Richards. "I'll be using the RP360 XP for years to come," concluded Lams.

"You will not find a more talented group of musicians than the California Guitar Trio. I've consistently been impressed with the vast range of styles they regularly perform and to know that DigiTech plays an essential role in creating their tone is the greatest compliment we can receive," stated Tom Cram, marketing coordinator, DigiTech.