California Guitar Trio's Paul Richards Makes the Move to the DigiTech® iPB-10 Programmable Pedalboard for iPad®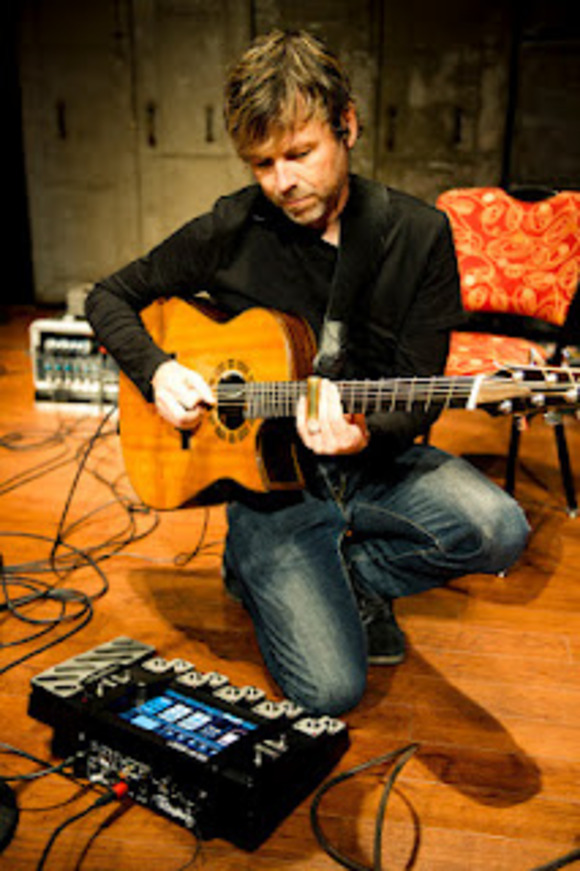 03 de Fevereiro de 2012
SALT LAKE CITY, Utah – The California Guitar Trio needs no introduction to guitar aficionados – and should be on any music lover's required listening list. Paul Richards, Bert Lams and Hideyo Moriya founded the Trio in 1991 and have since gone on to record more than a dozen albums. The California Guitar Trio tours worldwide, delighting audiences with their dazzling virtuosity, on-stage humor and eclectic blend of pop, classical, surf, jazz, world and other less-categorizable musical influences.
Guitarist Paul Richards had been using the DigiTech Whammy™, RP500 multi-effects unit and even a decades-old Echo Plus, and when the iPB-10 programmable pedalboard for iPad was introduced, he was curious to try one. The iPB-10 is the world's first guitar multi-effects pedal designed to work with the Apple® iPad and iPad2. It docks with an iPad to deliver never-before-available touchscreen visual editing capabilities and access to an unlimited array of sounds.

"When I was a teenager, I worked at a guitar shop, so I've been familiar with DigiTech for more than 20 years," Richards said. "I've watched them continually improve and become more innovative. I had been using another multi-effects unit onstage for many years, and I've tested and owned gear from a number of manufacturers. When I tried the iPB-10, I was immediately impressed by both the sound quality and the very cool, easy to use iPad interface."

"Everything is better! Better distortions, better amp modeling, better effects, and the iPad interface is so easy to use," Richards noted. "The same day that I got the iPB-10, I had easily figured out how to program it, and was duplicating and improving on all my sounds that I had created on my previous multi-effects unit. In fact, I had the iPB-10 ready for our live show that night."

"The sound quality of the iPB-10 is phenomenal. The amp modeling is the best I've ever used. Every night we play in different types of venues – it could be a rock club, jazz club, church, theater or arts center – with a different sound system every night. It is absolutely critical for me to have a great-sounding effects unit that works in every kind of live setting."

"After the first show that I played with the iPB-10, I knew that the unit sounded great and was going to work well," Richards said. "Over the course of the rest of the tour, I was impressed with how good it sounded night after night. There's an original tune of ours called 'Andromeda,' where I'm playing a heavy guitar riff with quite a bit of distortion. I found a great setting on the iPB-10 using one of the amp models. A couple of weeks ago we did a show with our friends in the Montreal Guitar Trio, who we had done quite a few shows with before. When they heard my new sound on 'Andromeda' using my iPB-10, they commented on how much better it sounded, and became very interested in my iPB-10!"

"The iPB-10 is super-easy to use on stage," Richards pointed out. "It's by far the easiest multi-effects unit I have ever used. With the iPad interface, it's very much like having real amps and effects pedal boards all at my fingertips, in one small unit. Instead of having to access menus or go into parameter pages to make changes, everything that I need is accessible with a touch on the screen or a click of a button, just like real amps and pedals."

"In my home studio, I've been having a lot of fun creating new sounds using the huge variety of amps and effects available in the iPB-10. I can't say enough about how easy this unit is to program and how easy it is to tweak sounds with the iPad interface."

For more information about the California Guitar Trio please visit www.cgtrio.com.

HARMAN (www.harman.com) designs, manufactures and markets a wide range of audio and infotainment solutions for the automotive, consumer and professional markets — supported by 15 leading brands, including AKG, Harman Kardon, Infinity, JBL, Lexicon and Mark Levinson. The company is admired by audiophiles across multiple generations and supports leading professional entertainers and the venues where they perform. More than 25 million automobiles on the road today are equipped with HARMAN audio and infotainment systems. HARMAN has a workforce of about 12,500 people across the Americas, Europe and Asia, and reported net sales of $4 billion for the 12 months ending September 30, 2011. The company's shares are traded on the New York Stock Exchange under the symbol NYSE:HAR.